Sunday, January 18, 2009
Mommy and I had a GREAT time playing out in the snow on Saturday! It was the first time I had been able to use my snowsuit and sled that I got for Christmas and boy was it fun! It was a good thing we went out in the morning because the snow was completely melted by the afternoon!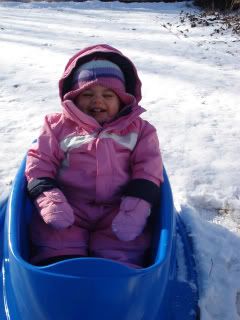 Posted by

Riley, Connor, and Beth
at 4:44 PM
No comments:

Posted by

Riley, Connor, and Beth
at 4:37 PM
1 comment:

Saturday, January 10, 2009
I have had an adverturous past week during my transition into the pre-toddler room. I'm becoming an "expert" at new things, including sitting in a big girl chair and eating at the table and sleep on a cot!! My first day on the cot was great! I went right to sleep and didn't try to get back up. My teachers were very impressed. Mommy was told that I need to work on being quiet when I wake up, but all of the kids need to work on that :) I am also really enjoying all the new toys in the room and like playing with my new friends.

I also got my first haircut yesterday!! Mommy finally admitted that my bangs were getting out of control and I needed to be able to see. So my teacher, Julie, in the Crawlers room, gave them a good trim yesterday. My new "style" looks great and mommy said that she even thinks that it makes me look older.
Posted by

Riley, Connor, and Beth
at 8:34 AM
No comments:

Mommy had another regular appointment this past Tuesday. She also happened to be sick, so that was the main reason for the appointment (her appointment wasn't supposed to be until the 15th). The appointment went great, though, and my heart beat was 161. Mommy also had her blood drawn for the "Quad Screen" which tests for some genetic defects including Down's Syndrom and Spina Bifida.
Posted by

Riley, Connor, and Beth
at 8:28 AM
No comments: